Automatically Show Members Their Perks
While membership management should be easy on you, it should be easy on your members, too. Members can find all of the information they need about their memberships in the Member Area. Members can access the area for any membership from the "My Account" page by clicking "View".
You can enable any or all sections of the member area to show members a list of accessible content (post and pages), products, discounts, and / or public membership notes. If a member will have access to content in the future, the member can see the access date as well.
Import or Export Members
You have a lot of tools to manage members within WooCommerce, but you may want to connect to other services too, such as importing a member list into an email tool. Memberships lets you export members to a CSV file so that you can get member data out of WooCommerce and into other tools.
You can also import members via CSV to add new memberships, create new users, or bulk-update existing members by merging your file with existing data.
Simplify Communication with Members
When you run a membership site, you spend a lot of time on customer service and managing members. We've tried to make that as easy as possible with Memberships. We've added "Membership Notes" so that you can track information about memberships for a customer, add your own notes for your reference, and even easily communicate with a particular member by sharing a note with them via email.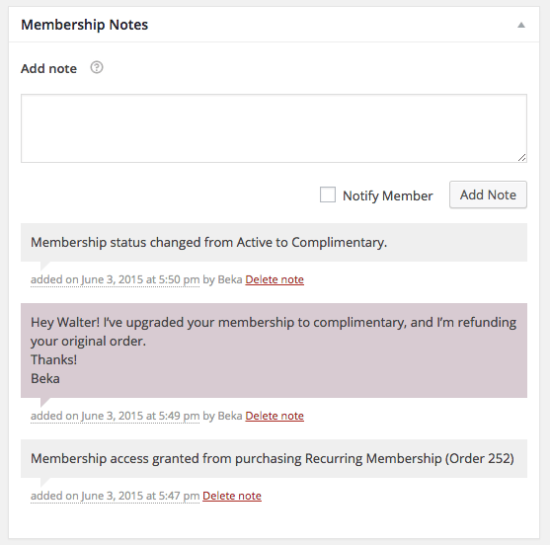 You can also use expiration and renewal reminder emails to let members know of ending memberships and prompt them to renew or upgrade.
Memberships + Subscriptions
Memberships is fully functional as a stand-alone membership solution, but it works very well with the most advanced eCommerce recurring payments solution available: WooCommerce Subscriptions.
When both plugins are active, Memberships can leverage some features of Subscriptions to give you more flexibility over membership billing (more details in our documentation):
Memberships can use recurring billing (i.e., monthly payments) for the membership rather than a set term (such as a year)
Memberships can use Subscriptions as a payment plan, but control access length itself to support installment payments
Free trials can be used for the membership via a subscription
Content restriction and dripping can include or exclude free trial periods so you control what content is available in trials
Members can pause their own memberships by suspending a subscription
Members can upgrade or downgrade memberships by switching a subscription
Upgrades and downgrades can leverage Subscription's proration to ensure that membership costs are accurate
Even if you don't want to use recurring billing, you can leverage the other features of Subscriptions by setting the subscription length to one billing cycle so you can take advantage of upgrades and downgrades or trial periods.